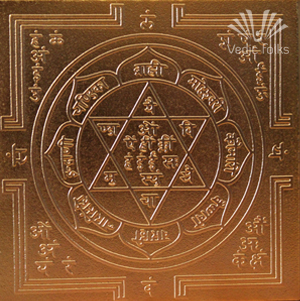 Goddess Durga, the powerful and vigorous Goddess is the rescuer of all, especially the women folk. When there are foreseen or unforeseen enemies in your life, who are creating problems for you; then the only divine solution is dedicating your prayers to Goddess Durga. She is the protector and resolver of all problems in life. When she is called upon by her fervent devotees, she makes her presence felt by solving their problems instantaneously.
Goddess Durga is always called upon with very vigorous prayers and chants which can appease her. Such chants are dedicated to her through Homas/Poojas meant for her solely by experts. These mantras are then installed in a divine copper plate and energized with her energy.
When you possess this divine yantra it will make it possible for you to envelope you and your living space with her energy. All your enemies will go subtle and you will easily skip through the hassles of life.
Be the personification of courage and victory—seek the blessings of Goddess Durga! She is the empowerment of divine energy who nourishes your body, mind and soul. She is a savior for women as well as a protective refuge for men. Her power rays will stimulate your courage level to achieve victory against enemies. Durga Yantra runs the magical lines of Goddess Durga which gift you with victory in all your endeavors.
Speciality of Durga Yantra
Its time to conquer your enemies! Encircle yourself with the positive radiations of Durga and win over your rivals; her unflinching energy assaults all the impediments on your way of success. Your struggles and sufferings will come to an end on worshipping Durga. She destroys all negativity that is blocking joy.

The radiations of the Yantra rebuilds your morale; it equips you with the fighting qualities that drive you towards the pinnacle of success. Fulfill every desire of yours with the unfaltering energy of the Durga Yantra!

Mantra for Durga Yantra
Katyayanaya Vidh Mahe
Kanya Kumari Dhi Mahi
Tanno Durgi Prachodayat


How to Use Durga Yantra?
Yantras are great cosmic conductors of energy, an antenna of Nature, a powerful tool for harmony, prosperity, success, good health, yoga and meditation! Yantras consist of a series of geometric patterns. The eyes and mind concentrate at the center of the yantra to achieve higher levels of consciousness. Yantras are usually made out of copper.

Place the Yantra facing the East or the North in a clean and sacred altar.
Do not let other people touch the Yantra.
Periodically wash the Yantra with rose water or milk. Then, rinse it with water and wipe it to dry. The Yantras color may change over a period of time; however this does not dilute the power of the Yantra.
Place rounded dots of sandalwood paste on the 4 corners and in the center of the Yantra.
Light a candle or ghee lamp and an incense stick in front of the Yantra. You can offer fresh or dry fruits as Prasad, as well.
Chant the Mantra above in front of the Yantra, preferably after showering.